Rated 4.6 on GooglePlay
* More than 100k downloads since 2018

No Android device? Use ProfitTradingApp in your PC with the BlueStacks emulator
GET IT HERE >
The Perfect App for
Crypto Traders
FOR THE MAIN EXCHANGES
ProfitTradingApp is the best choice for crypto traders. It makes quick and easy to trade on exchanges, being constantly improved with cool features. Take advantage of the app and join tens of thousands of happy users.
Full mobile, no PC needed. Trade anywhere.

No Android device? Use ProfitTradingApp easily in your PC with the BlueStacks emulator!
Special Fee Discounts
* Residents of the United States of America or Quebec (Canada) are prohibited from holding positions or entering into contracts at BitMEX. Residents of Cuba, Crimea and Sevastopol, Iran, Syria, North Korea and Sudan, or any other jurisdiction where the services offered by BitMEX are restricted are also prohibited.
Available Exchanges
Press your exchange to register
Premium Features
* Approximate prices. The final prices depend on your country taxes. GooglePlay will adjust it.
** The copy experts bots feature is currently only available for Binance and Bittrex apps.
Signals
PROFITTRADINGAPP WITH SIGNALS
Trade Signals easily with ProfitTradingApp
and Telegram / Discord Signal Channels
How can I trade my channel signals with ProfitTradingApp?
Trade a Signal is really easy and fast with ProfitTradingApp. Just follow the these steps:
1
Enter into your Telegram Channel
Then resend the signal message to @ProfitTradingAppBot
2
Open a chat with @ProfitTradingAppBot
You will see a button "Trade with ProfitTradingApp", just press it to open with ProfitTradingApp.
3
Confirm your signal
ProfitTradingApp will autogenerate all the operations from the signal, just press the SAVE button and the bot will manage your signal.
4
Track your signals
You can see the signal progress, completed operations, waiting prices and profits.
Where can I find Signal Channels?
You can find some good signal channels here: Signal Channels
You can find some good signal channels here: Signal Channels
Affiliate Program
MAKE MONEY SHARING
Make money with the ProfitTradingApp Affiliate Program
Get $12 for every referred user that makes a full purchase of the app.
How the Affiliate Program works?
1
Get your own Referral Link or Referral Coupon inside the app
You will receive a coupon like this, with a personal code that identifies you as affiliate: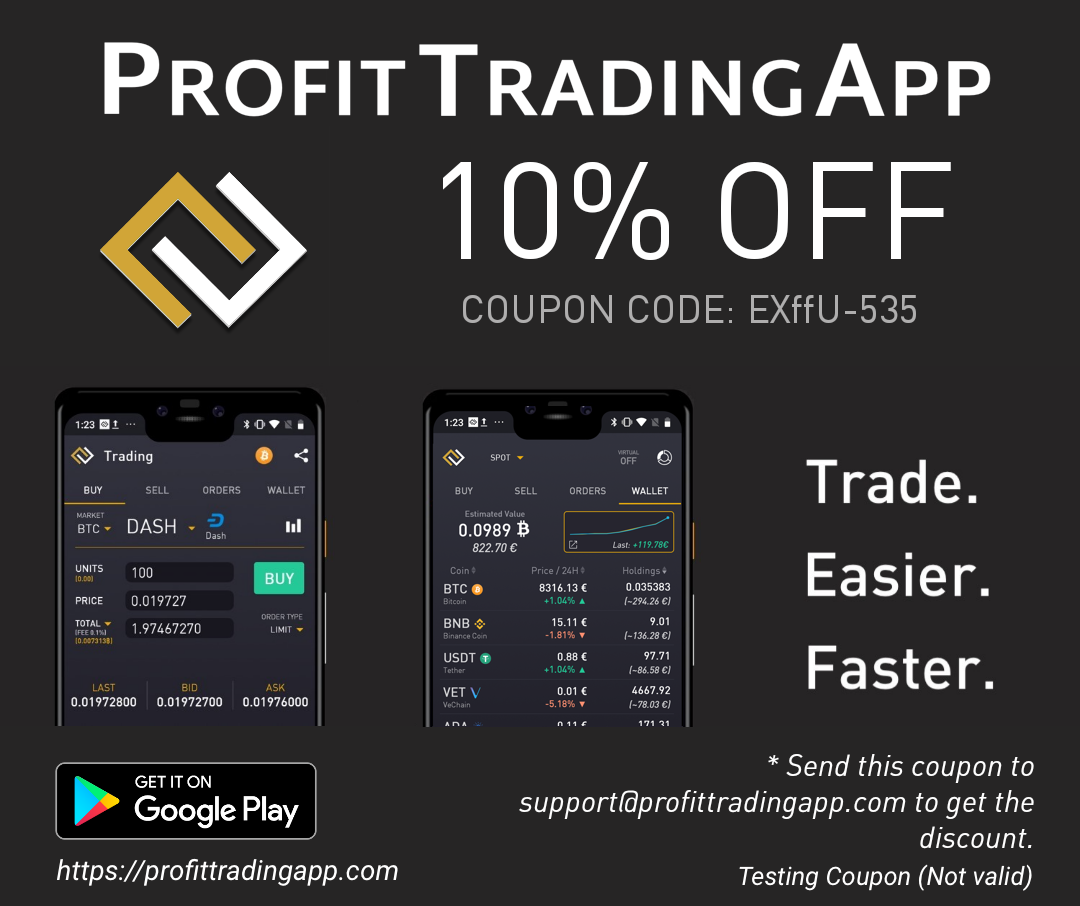 2
Send us your USDT address
Send us your USDT address to info@profittradingapp.com. We will send the payments to this address. Please ensure to double check it before sending, we won't be able to repeat a payment if the provided address is wrong.
3
Share your affiliate link or coupon
Share your coupon where you want, Telegram, Twitter, Facebook, Bitcoin forums, etc. The more people it reaches, the more chances you have to make money.
For every user that makes a full purchase of the premium features using your affiliate link or coupon (TradingBot + Extension Pack1), the following will apply:
You will get paid $12 (payments are done with USDT)

Your referred user will get a 10% discount for Premium Features
Take this opportunity and make easy money with ProfitTradingApp. There is no limit on the money you can make with this promotion.
Contact us at info@profittradingapp.com if you have any further questions.
Frequently Asked Questions
Do you have any Questions ?
Ask our support team
ASK SUPPORT
Download it now
App available for Android devices
The best crypto trading app