BitMEX Referral 10% OFF
FEE DISCOUNT
Benefit of 10% fee discount in BitMEX for 6 months with our referral link.
Referral users will also enjoy the filled orders notification service for FREE.
Create your account now!
https://www.bitmex.com/register/spvEUM
* Residents of the United States of America or Quebec (Canada) are prohibited from holding positions or entering into contracts at BitMEX. Residents of Cuba, Crimea and Sevastopol, Iran, Syria, North Korea and Sudan, or any other jurisdiction where the services offered by BitMEX are restricted are also prohibited.
HOW IT WORKS?
STEP 1
Create a BitMEX account by using the referral link

Be sure to check that you see a green box with your 10% fee discount text, like the picture below: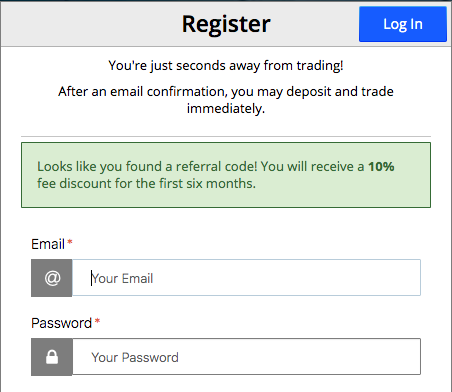 STEP 2
Send us an email to: referrals@profittradingapp.com and tell us the email you used to register in BitMEX and the email you used in ProfitTradingApp.
STEP 3
We will check that you created your new account at BitMEX with our referral link and will grant you FREE access to filled orders notifiacions service.
STEP 4
Start trading with your new BitMEX account and enjoy your 10% fee discount. You will also have FREE access to orders notifications service as long as you keep using your new BitMEX account for trading.
* This FREE service may be discountinued at any time if BitMEX cancels their referral program.
Download it now
App available for Android devices
The best crypto trading app